Clients come to Crigler Enterprises, Inc. for their baling equipment and supplies, recycling equipment, recycling center needs, and document destruction needs. Our extensive selection of equipment is not the only service we offer—we also specialize in the repair and maintenance of this equipment, as well as a wide array of parts to address any issues with your waste handling system.
Baler Repair and Maintenance
We offer a wide range of services and products to service the recycling needs of our clients. Crigler Enterprises, Inc. has the largest service fleet in the Southeast of The United States. Call us today to have your equipment evaluated and get set up on a PM plan that can lead to lower maintenance costs and keep your machine running smoother and longer. Whether it's repairing a malfunctioning piece of equipment or coming up with a plan for scheduled maintenance, Crigler, Inc. has the expertise and parts to get it done efficiently.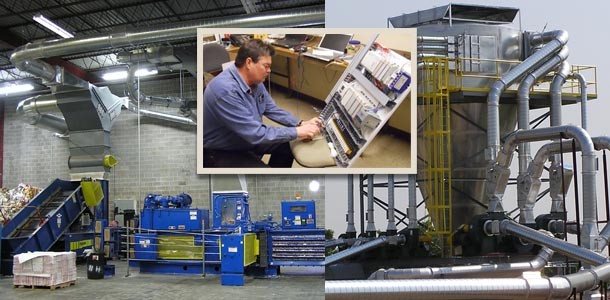 In addition to our baler repair and maintenance services, we offer system design, manufacturing, and installation, state-of-the-art automation, custom control panels, fully refurbished and reline balers and shears. We also carry an extensive parts inventory for all makes and models of equipment, so we are equipped to make any necessary repairs to your waste handling equipment. We service all makes and models of the equipment listed below:
Balers
Shredders
Conveyors
Air Systems
Sorting Lines
If you have any questions, please contact us today. Our team of waste handling equipment experts can discuss your needs and recommend a solution based on your specifications. We look forward to working with you to ensure that your waste handling system is working as efficiently as possible. Let us show you the difference that our industry-leading customer service and top-notch products can make for your industrial applications.